February 10, 2016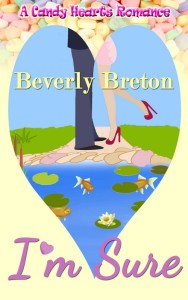 And for the grand finale of this Candy Heart Series here, my own story, I'm Sure, is out today!
Pond designer Megan is not sure she can trust a man again, and Jason, a firefighter, is the poster boy for unpredictable. Is St. Valentine powerful enough to bring these two together?
After working at a nursery similar to the one Megan works at, I can tell you for sure, life is better around water ponds.  And who doesn't feel better when there's a hunky fireman nearby? I hope you'll enhance your Valentine's week by spending time with Megan, her  water gardens, and soon-to-be hers hunky firefighter Jason? You'll have to find out!
Purchase at http://www.wildrosepublishing.com/maincatalog_v151/index.php?main_page=product_info&products_id=6631 or http://www.amazon.com/Im-Sure-Candy-Hearts-Romance-ebook/dp/B019YJYPGC/ref=sr_1_1?ie=UTF8&qid=1455062865&sr=8-1&keywords=Beverly+Breton+I%27m+Sure

Happy Valentine's Day!







January 29, 2016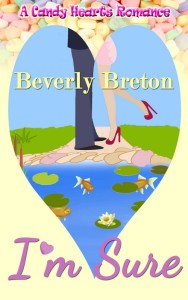 To take another peak inside my upcoming Candy Heart series book I'm Sure, the florist at the Riverton garden center where Megan works is here today. Hard to believe these two are best friends, they are so  different in appearance. Megan goes for the natural beauty look, and she pulls it off with her coppery hair and that healthy outdoor glow to her skin. Sara likes drama, the impact of jet-black hair with a who-knows-what-color-today streak, Cleopatra bangs, and perfect eyeliner. Here she comes now, in a black lace blouse and royal blue capris, flashing that sapphire and diamond engagement ring…
How are the wedding plans going Sara?
"Great!" she trills. "Do you know the date we chose? May 1st! Thought we'd go for a little May Day Magic." Sara gives me a knowing smile.
I laugh. This woman knows how to work the room; she's promoting my books for me.
"But you asked me here to talk about Megan. Dear Megan." She reaches up to adjust the chop sticks poking out of her high bun. "She's been living like a nun. I don't know how. Or why." She shakes her head, her blue-streaked bangs swaying. "That last guy, Mr. Works-All-Night-But-Not-At-My-Job, really did a number on her." The florist sends me a penetrating gaze. "I don't think Megan's ever had Stars In Her Eyes."
Sara, those stars in my first book are because the heroine is knocked in the head by an incoming wave pool surfer, and you know it, not because she's dotty with love at that moment, but nice plug.
"I know." Sara grins. "But I mean the dotty with love kind. I've never seen Megan moving around in a daze, like everything's twinkling."
Is she now?

"Something's going on, since she met Jason. The start wasn't smooth." She gazes down, her lips pursed. "I'll do what I can to get them together. I think they could be Crazy Happy…" she glances up expectantly, her eyes twinkling.
Without missing a beat, I finish. Hearts. Crazy Happy Hearts, my last book, starring my sexy sixties-something couple who reunite at the Jersey Shore.

"And by the way, Bev–I can call you Bev, can't I? You are rockin' some Specs Appeal today."
This woman is a piece of work. I do wear glasses. And she's woven in one of my favorite books to write.
"I had to land that since we're talking about I'm Sure. Specs Appeal was your first go around with 'puny' double entendres. You didn't expect that reunion story to be such a huge hit with the reviewers, did you?! You were concerned they might think the puns were too silly…"
I nod. Yes, I was.
"But they loved it! So now we've got Megan and Jason and their double entendres…but a little racier this time." She nods sagely. "That fits those two. They are two very attractive individuals. Can you imagine their babies? I predict, by next autumn, Megan and Jason will be Under A Halloween Moon–"
I resist the urge to genuflect. My couple in that book caved to the magic of the Halloween moon…but since it's only February, I hope Megan and Jason don't have to wait that long to figure things out.
"—planning their own wedding." Sara finishes, a confident ring to her words.
My turn–to feed her for the finale. You sure about that, Sara? They'll be planning a wedding?

"Of course." She waits a beat.
Do I hear an orchestra crescendo?
"I'm Sure," she pronounces with gusto. Then, with a flourish of her arm, her dozens of bangle bracelets chattering softly, she takes a deep bow.
A well-deserved one. Thank you, Sara. Flawless.
I'm Sure, coming February 10, 2016, for purchase at www.amazon.com and www.thewildrosepress.com







January 22, 2016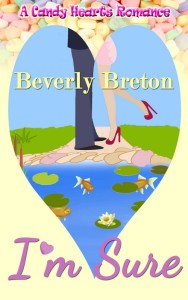 Maggie, the owner of Peggy's café in Riverton, California, is a chatterbox these days. She's excited about the upcoming February 10th release of my Candy Heart Series title I'm Sure.  She's got a supporting role, as do two of her sandwiches, and she thinks—well, she can tell you herself…
Maggie rearranges her ash-blond-from a bottle locks to settle over her shoulders, framing the  very ample chest she's showcasing in a bustier-inspired top straight from the racks at Forever 21.  Because that describes Maggie—who is on the high side of fifty—to a T; Forever 21. She finishes with an upward push on her hair near her crown, for height. Blinking her mascara-laden eyes, she blots her pink-frosted lips on a tissue. "Oh, am I on?"
Yes, Maggie, you are so on.
"Hi everybody. I'm Maggie. I run Peggy's café, the best place to eat, not just in Riverton, but anywhere around here. You should see our menu, which is real cute." Her long French manicured nails on display, she pulls a laminated card from one of her counter racks. "I've got one right here. I've named all the sandwiches, you know?" After a moment of indecision, she retrieves leopard reading glasses from under the counter, balances them on her nose, and starts reading. "Like The Sky is Falling—that's a chicken sandwich with everything on it, and–" She jerks her head up.
I just reminded her what we are talking about today.
"Oh, yea, Megan Donovan. The water garden designer." Maggie slips her glasses off and releases a loud exhale. "I gotta admit, that long hair of hers, that copper shade, is to die for." She purses her shining lips. "But I really think that girl could use more make up. Where are her eyelashes? And every time she comes in for lunch with that friend who works with her, it's like the girl's been on year-long safari. Khakis, boots, mud spattered." Maggie shakes her head. "Until the other day. You could have knocked me over with a feather when she walks through the door wearing a clean T-shirt–although it did need sparkles or somethin'–with this man." Maggie's eyes widen. "I'd never seen him before, but woo-wheeee. Tall. Cheekbones. A body that would take no prisoners. Calendar material." Her eyelids dip lazily as her glossed-mouth widens into a cat-ingesting-cream smile. "What a woman wouldn't want to do with that man."
Did she just close her eyes? Her lunch rush could start any moment…
When Maggie's lids pop back up, her gaze bright. "Jason." She claps her beringed hands. "That was his name. Jason. He entered my candy heart contest for a free lunch…after I asked him, too, anyhow. I hope he wins, and brings Megan. I like her. She's due for romance, if you ask me." She snaps her gaze up, peering into the ceiling rafters of her café. "St. Valentine, you listenin'…?"