My Writing
Excerpt from I'm Sure by Beverly Breton for The Wild Rose Press:
Jason reaches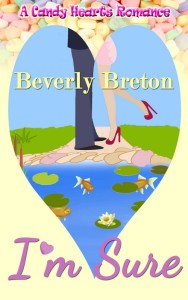 over the table to take my hand in his. Much as I scrub the dirt out, my nails are never clean. I have a long scratch across my knuckles. In the middle of the work day, that's who I am.
He turns my palm up, his hand cradling mine, and runs his finger across the callouses.
My heart skitters. There's consideration in his touch. Imagining him tending a person in distress is easy.
Need I say it? I like the feel of him touching me. The world is charmingly in order right now.
But why is he spreading my fingers? "Is there something wrong with my hand?"
"Every time I see you, you're in the water. And you're the odd duck in your family. I was wondering," he tilts his head to examine my open hand, his carved cheeks in profile, "if I'd find webs between your fingers…" Bemusement laces his tone.
I resist the urge to wiggle my fingers; I don't want him to let go. "Like a Labrador retriever?"
He laughs, and releases my hand. "A dog? No. Not what you bring to mind."
His grin is so open, so easy.
I divulge something I've never told anyone. "I did wish for scales when I was younger. I pretended I was a mermaid."
He takes me in for a beat, a glint of something deeper in his gaze. "I can imagine that." His voice is low and velvety.
Excerpt from Crazy Happy Hearts by Beverly Breton for The Wild Rose Press:
Kenny help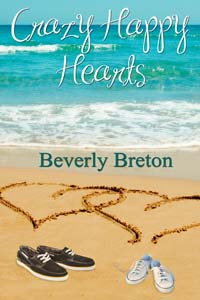 ed himself, and then stared at the powdered-sugar-topped confection he'd placed on a napkin. "I box," he muttered finally.
Had she heard him right? "You what?" she whooped.
He glanced sideways at her. "I box. Everyone always said I needed to find an outlet for all my energy…so I did. I took up boxing."
"For real? With people watching?" Susan couldn't connect this sport with the boy who returned injured crabs and washed-up clams to the ocean water, the boy who could draw better than anyone she knew, the boy who never wanted to be confined…delivering bodily harm to his opponents in a caged boxing ring?
He examined her for a minute, his brows drawn together. "Why? You don't think I could?"
Susan didn't answer. Of course, he could.
"You into that?" Kenny asked. An undecipherable glint lit his eyes. "Watching guys beat each other up?"
In a surprising flash, Susan realized a part of her would be…if the guy in the shiny shorts was Kenny, and the bare chest displayed the kind of muscles she'd felt through that shirt. "Ah…I don't know. First, tell me if you do it."
Kenny barked out a laugh. "Still weighing your options."
His dark eyes telegraphed something deep, something sharp-edged, riling Susan. "I am not!" she retorted. "Okay, no, I don't like to watch boxing. I was just being polite." She pursed her lips together. "And open-minded."
"Really. Open-minded. Mmm." Kenny watched her, his eyes softer, an amused curl to his mouth.
Excerpt from May Day Magic by Beverly Breton for The Wild Rose Press: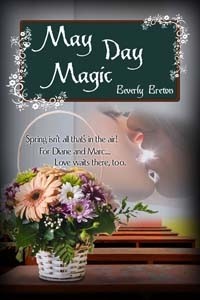 "Hey. Diane."
The husky male voice obliterated every other awareness. A frisson of response leaped through her.
Dirty tissue in hand, she raised her gaze.
Her dark-haired daydream stood leaning against the door jamb of her office.
"Hey, Marc," she managed in a loud whisper. Raising a hand in greeting, she stepped away from the office cot. "Come on in."
As he walked toward her, Marc beamed a smile that spread over her like the new floodlights on the town's football field.
Her pulse kicked up.
He stopped, noticing the sleeping boy.
"It's okay," she gestured to him. Incapable of hiding her pleasure, she shot him a wide smile.
He came closer. He smelled fresh, vibrant, outdoorsy.
Her arms became awkward appendages. If only she had a student file to occupy her hands. She took a breath. Was something developing between them? Or was this organic sense of Marc's every move simply a reaction to his jaunty new outlook on life? She wished she knew if she had a valid reason to become all thumbs and blushes.
She leaned against her desk, crossing one pink-polished foot over the other in a pose she hoped looked nonchalant. "How did your program go?" At least her voice didn't betray her, sounding level and nurse-competent. No doubt Marc had this horticulture presentation down at this point. He'd been doing it for years; his support of the community was a trait she loved about him.
Loved about him? She swallowed a gulp. OMG! She really was impersonating a middle schooler! She blinked, steeling herself not to react to the fracas in her brain, and body.
They stood staring at each other, her grey eyes looking into his brown ones.
Did he have any idea of the spell she fell under when he just smiled at her? When he concentrated his warm brown gaze on her? How exactly did a 36-year-old, divorced, mother-of-two, school nurse let a man know she was interested?
Excerpt from Under A Halloween Moon by Beverly Breton for The Wild Rose Press: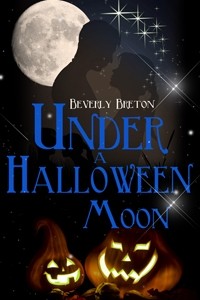 Annika retrieved a book of matches from the kitchen drawer and stepped out onto the front porch landing to light the candles in the pumpkins she and Mindy had carved earlier in the week. She stood in the refreshing evening air, watching the sky darken over the rosy aura that spread low against the earth from the setting sun.
She knelt on the steps in front of the thick orange gourds. A devilish breeze wanted nothing more than to blow out every one of the matches. Several spent matches later, and in frustration, she issued a half-hearted request into the wind to desist for one moment so she could light the jack-o-lanterns.      Immediately, the air was still, and she lit both candles. Almost spooked by the crazy coincidence, Annika turned on the step and looked around her. What was she expecting to see? "Thank you," she murmured to the night air and headed back inside.
About to return the matchbook to the drawer, she heard the doorbell sound. Envisioning Olivia and her grandmother, Annika bypassed the candy bowl and went to open the door.
Livvy, in full pirate regalia, striped shirt, blousy knickers, and all her accessories, stood front and center, her little black boots against the door jam, bristling with energy and anticipation.
"Hello, Livvy," Annika greeted the little girl cheerfully. "Hello–" She raised her gaze, and fell silent. The candlelight from the pumpkins flickering on either side of his body, Cameron stood behind Olivia in a fleece pullover, jeans, a jaunty flush in his cheeks…and no glasses.
Her breath caught–he looked so handsome. And what eyelashes he had on those chocolate brown eyes. No wonder even the married kindergarten mothers talked about this man.
Excerpt from Specs Appeal by Beverly Breton for The Wild Rose Press: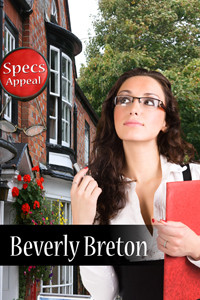 Liz smoothed back her hair, tilted her head seductively, and stuck her chin forward at the mirror in movie star nonchalance.
These sunglasses frames looked good on her.
Just then, the door behind the counter swung open. There, eight feet away, stood David Sherwood, her secret crush for her entire high school senior year.
Her stomach free fell down into her heels. She hadn't seen him in nine years. Whipping off the overblown sunglasses, she shoved her own slim frames back on, praying the loose lens wouldn't fly out.
David's grey eyes came alive behind his classic wire-frames. "Liz Matthews!" He stepped forward, grinning. "You're a sight for sore eyes."
"David!" Her heart thumped. Surprise put her at a loss for additional words, but nothing felt more natural than grinning right back.
In math class, she and David had sat side-by-side for forty-eight minutes, five days a week for nine months, minus vacations. She'd thought of David way too much outside of class for a girl with a steady boyfriends. Nothing ever came of her reveries. David never saw her as more than a straight guy for his jokes, a pal to pass the time in math class. After graduation, the Sherwoods moved to Florida. Liz went on seeing Will, and never looked back.
At least not that she admitted to anyone.
Why couldn't she get these sunglasses back in their slot? Her fingers insisted on behaving more like breakfast sausages than opposable digits. "Are you the new owner? I didn't know this was your business," she stammered as the frames scooted out of her grasp like a greased pig.
Right into David's hands. "Here. I can do that for you."
Their fingers connected for an instant as he took over. Awareness shimmered through her.
Excerpt from Stars In Her Eyes by Beverly Breton for The Wild Rose Press: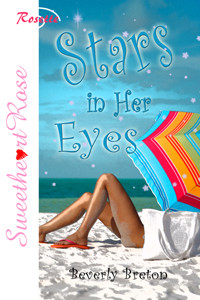 Her hair was copper-toned; her redhead's skin would never be, and Karen was especially pasty after weeks of overtime under office fluorescents. She didn't know anyone but Shelley here anyhow, so she'd slathered a thick coat of 70+ sun block on her already white body. Missing work from a bad sunburn was not part of her plan. Nor was meeting anyone, especially looking like Casper. Enjoying a day off at the wave pool was, and the breeze teasing through her hair and across her skin under the summer sun felt so good, she shivered.
Karen's gaze strayed again to the group of five guys boisterously goofing around in the waves beyond them. They were a moving kaleidoscope of chests, shoulders, biceps, and an occasional glimpse of trunks pulled taut on muscular backsides, all powered by almost palpable testosterone-fueled energy. The guys appeared to be about her age, almost thirty, and unattached, like she and Shelley, but Karen was determined to remain detached, and disinterested. The guy in the green suit with the curly dirty blond hair–she thought she'd heard him answer to "Spence"–was making this difficult. Not only was he eye candy, his enjoyment of the water and his four friends was infectious. Dear old Shelley wasn't aiding Karen's resolve any; every time she turned to talk to her friend, she found Shelley watching the men with the intensity of a leashed dog eyeing five flesh and sinew-covered bones.
This didn't change the plain and ugly facts Karen was being forced to accept: 1) her Mr. Right didn't exist, and 2) she was wasting her time looking. She hadn't found him in the several years she'd been on her own, and the odds of achieving the fantasy life she'd dreamed of got worse with every passing month.
****************************************************************************************************************
Here's what romance authors say about Beverly Breton's fiction:
"This story is a delight!" Judith Arnold

"Witty dialogue and characters you'll remember long after you've read the last word!" Diane Amos

"A promising new talent." Marie Force