June 10, 2016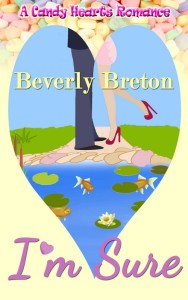 My favorite response from a reader of my newest release, I'm Sure: "I want more Megan and Jason!"
Nothing's better than hearing a reader wants to spend more time with your characters.
The story ended too soon! I've heard this before. I write mini-novellas (my stories are less than 20,000 words) and the romance equivalent of flash fiction (less than 1000 words).
So many characters and story lines waiting to be pursued, and not enough time. I've enjoyed writing about every couple I've matched up in my stories…but there are so many couples and settings waiting in the wings to be developed.
And what I really like is pushing the boundaries, writing romance stories that have quirky settings and plot lines that bring my couple together, but don't always fit the standard rhythms of what a romance editor is looking for. So I'm always on pins and needles until hear an acceptance back from an editor. We really like this story, but with these changes made to enhance the romance story line. Can you agree to these changes? Usually, I can, if for no other reason than this couple is real to me now, and I can not imagine relegating them back to the virtual file drawer where they started. And my editors are almost always right in their instincts of where and how to turn the temperature up on the romance.
Still, in my published stories, I've been given some leeway. The romance may start a little later in the story than it's traditionally supposed to. Or I might have a third main character, like Tillie, Kenny's mother in Crazy, Happy Hearts, who steals the scene every now and then. Or my characters may not get as physical as soon or as intensely as romance readers have grown to expect.
My readers have said they love how real my characters are. Not every couple jumps into bed right away. Or makes out right away. Or even holds hands. I like my characters to find each other at a pace that feels real. And yes, I love reading the romancing scenes, but I truly love the prelude to the romance–the teases, the misunderstandings, the people who help make the match, or who get in the way, knowingly or unknowingly; the time apart when we know these two characters belong together, but they haven't quite figured it out!
I fall in love with the couples and the communities in my romances. I'm always thankful when my readers do also.