January 11, 2016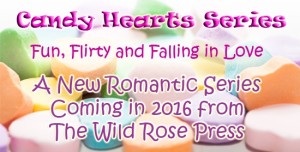 Choose–in order, adults-only hot; sweet; or spicy as January heats up with these next three titles.
You're Tops by Sidney St. Claire
Regina is a romance writer in need of research. Tucker is a Dom with a spanking bench. Who tops whom?
Be Mine by April Hollingworth
Back from a tour of duty, can he convince her that he wants her to be his for Valentine's Day, and ever after?
You and Me by Stephanie Kepke
Alex had sworn off love–until candy hearts mysteriously arrive in her mailbox.
Purchase at http://www.thewildrosepress.com, and Amazon.  More happy reading…







January 06, 2016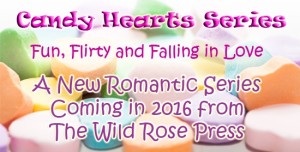 What's better on a cold January day than some warm romance? Here's the second set of title releases from The Candy Heart Series published by The Wild Rose Press.
Forget Me Not by Maureen Bonatch
What if your memories hadn't been made yet?

Charm Me by Tena Stetler
Can a ski trip turn romantic in Divide, Colorado?
Sweet Kiss by Judy Ann Davis
Can one sweet kiss revive an old love?
Purchase at http://www.thewildrosepress.com or on Amazon.  More happy reading!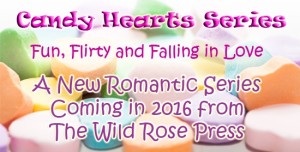 Get ready for Valentine's day romance and love! The Candy Heart Series from The Wild Rose Press debuts today.
Secret Admirer by Ally Hayes
Andi must choose to meet the guy she's secretly admiring or the one that's admiring her.
For You by Emma Kaye
Can a time traveler and the widow of a murdered earl find love in Regency London?
Chill Out by Jana Richards
Two people afraid to love again; can candy hearts show them the way?
Head on over to The Wild Rose Press website to purchase: www.thewildrosepress.com
Books can also be purchased at Amazon and Barnes and Noble.  Happy reading!