January 04, 2016
Today: First Three Releases for Candy Heart Series!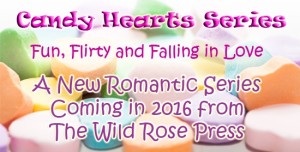 Get ready for Valentine's day romance and love! The Candy Heart Series from The Wild Rose Press debuts today.
Secret Admirer by Ally Hayes
Andi must choose to meet the guy she's secretly admiring or the one that's admiring her.
For You by Emma Kaye
Can a time traveler and the widow of a murdered earl find love in Regency London?
Chill Out by Jana Richards
Two people afraid to love again; can candy hearts show them the way?
Head on over to The Wild Rose Press website to purchase: www.thewildrosepress.com
Books can also be purchased at Amazon and Barnes and Noble.  Happy reading!