January 11, 2016
January Just Gets Better-More Candy Hearts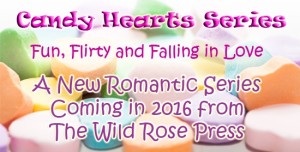 Choose–in order, adults-only hot; sweet; or spicy as January heats up with these next three titles.
You're Tops by Sidney St. Claire
Regina is a romance writer in need of research. Tucker is a Dom with a spanking bench. Who tops whom?
Be Mine by April Hollingworth
Back from a tour of duty, can he convince her that he wants her to be his for Valentine's Day, and ever after?
You and Me by Stephanie Kepke
Alex had sworn off love–until candy hearts mysteriously arrive in her mailbox.
Purchase at http://www.thewildrosepress.com, and Amazon.  More happy reading…