April 27, 2016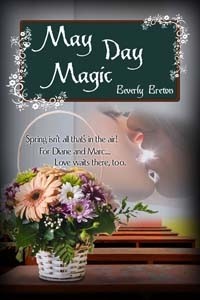 There's more to May Day than the Maypole! In the early morning, children in the Middle Ages explored the fields to collect wildflowers to create a May basket. The baskets were delivered in secret to friends and neighbors…delightfully described in this poem by Virginia Scott Miner.
May Day Morning
Oh, let's leave a basket of flowers today
For the little old lady who lives down our way!
We'll heap it with violets white and blue,
With Jack-in-the-pulpit and wildflowers, too.
We'll make it of paper and line it with ferns
Then hide–and we'll watch her surprise when she turns
And opens her door and looks out to see
Who in the world, it could possibly be!
I hope you'll tap in to some contemporary May Day festivities by starting this month of May reading May Day Magic!
Single mother Diane enlists the help of her two children to create a May Day basket to deliver to her ailing mother, their grandmother. She's all thumbs when handsome plant nursery owner Marc joins in to help select the flowers.  Diane has also secretly created May baskets for her children as a surprise they will discover when they return from delivering their grandmother's basket. But there's one more surprise coming, this time for Diane. Marc's got a little May Day magic of his own in mind…
Available through Amazon and The Wild Rose Press