February 09, 2016
Sweet Week–More Candy Hearts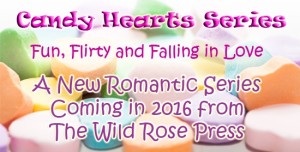 Hot Stuff by C.J. Fosdick
Her reaction to "Hot Stuff" threatens her comfort zone, and every other zone in her body.
For Keeps by Veronica Lynch
Does Meg stay in a high-stress job which fulfills her professionally and spiritually, or devote her life to the person who completes her?
Available tomorrow, February 10, at http://www.thewildrosepress.com and http://www.amazon.com.