November 06, 2015
I'm Sure–To Be Released In Candy Heart Series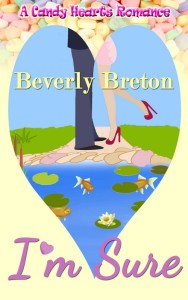 Awaiting the release date for I'm Sure, my next title from The Wild Rose Press! I'm excited to be one of the authors featured in The Candy Heart Series, a collection of Valentine's Day stories titled after sayings from the classic candy conversation hearts.
During the day, Megan surrounds herself with water lilies and goldfish in the ponds she creates. At night, memories of her lying ex-boyfriend are a reminder she can never again trust a man.
Jason embraces his career as paramedic firefighter, even though ugly experience declares his profession a greedy mistress. During quiet nights at the station, he wonders if this bachelor existence is all he'll ever know.
Then Jason meets Megan and sparks fly, chased by flashes of anger when Jason, battling a raging apartment fire, stands up Megan on their first date. Is St.      Valentine powerful enough to bring these two strong-willed people together?