February 03, 2016
Count Down To Valentine's Day With More Candy Hearts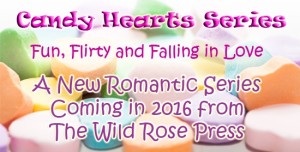 Find Me by Cait Jarrod
Now that she's showed up at her high school reunion, does Lyse pursue the man with her companion candy heart, or follow her own heart?
Got Love by Angela Hayes
Cupid Tharin Terize wants fairy Flora Hawthorne to be his Valentine, not just for one night but for the rest of all time.
Ask Me by Laura Strickland
She never expects button-down Leo to hit all her buttons, but by the next morning, her hearts in danger. 
Available at http://www.thewildrosepress.com or http://www.amazon.com