January 20, 2016
Candy Hearts Series–Wednesday's Winners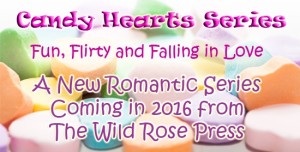 Equations, cupcakes, and animals–choose all three with these Wednesday winners from the Candy Heart Series.
Me + You by Brenda Gayle
Math teacher Lori Tait is solving the equation for love.
Adore Me by Darcy Lundeen
A hacker brought them together, but will her need for professional success drive them apart?
Melt My Heart by Marie Tuhart
In order to submit, veterinarian Lexi Mallory needs a special touch.
Available at http://www.thewildrosepress.com or on Amazon.  Gotta love this time of year…