January 28, 2016
Be Mine by April Hollingworth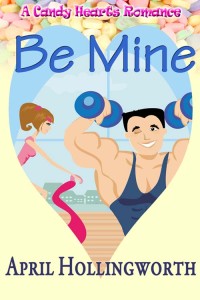 Beth and Mark are destined to be together; Mark's sister Sally is Beth's best friend. Then when Sally and Mark's best friend Jonathan connect, it's a double date match made in heaven.
And a two for one romance.
But Beth's got serious baggage—an abusive ex-boyfriend who is due out on parole. April Hollingworth expertly weaves this serious story line into a sexy boy-and-girl-next-door pairing.    Beth's training at a gym in self-defense, and Jonathan and Mark, ex-Army partners, train and teach at the gym, so get ready for close encounters of fit bodies! Pick up Be Mine for flashes of heat and a very happy ever after.