January 18, 2016
A Month More of Candy Hearts–Today's Releases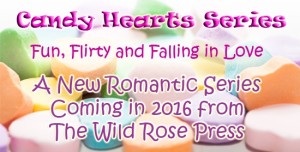 If you haven't caught the Valentine's Day spirit yet, this is the week to do it, and here's three stories to start you off!
Real Love by Charlotte Cooper
Her eyes and heart are open to new worlds and new possibilities.
Say Yes by Katie O'Sullivan
Can Ben convince Darby to consider him for more than just a place on the gallery walls?
Tweet Me by Desiree Holt
Don't call. Don't text. Tweet me…
Available at http://www.thewildrosepress.com and on Amazon.  Love is in the air!