February 08, 2016
Welcome Valentine's Day Week!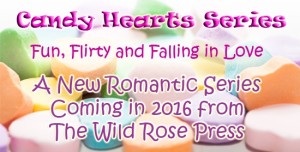 3 Wishes by Peggy Jaeger
Chloe's fantasy man hasn't materialized, despite the matchmaking efforts of her Italian family, but this year, for her birthday, she just might get her three wishes.
Not Tonight by Barbara Burke
On a dark London night in the middle of a blitz, is it possible to fall in love?
Only Yours by Nancy Fraser
Can Rebecca expect her family and Garrett to understand that her desires have turned to his older brother? 
Ooh La La by Doreen Alsen
Male Exotic Dancer + Buttoned Up Accountant = True Love.
Available at http://www.thewildrosepress.com and http://www.amazon.com